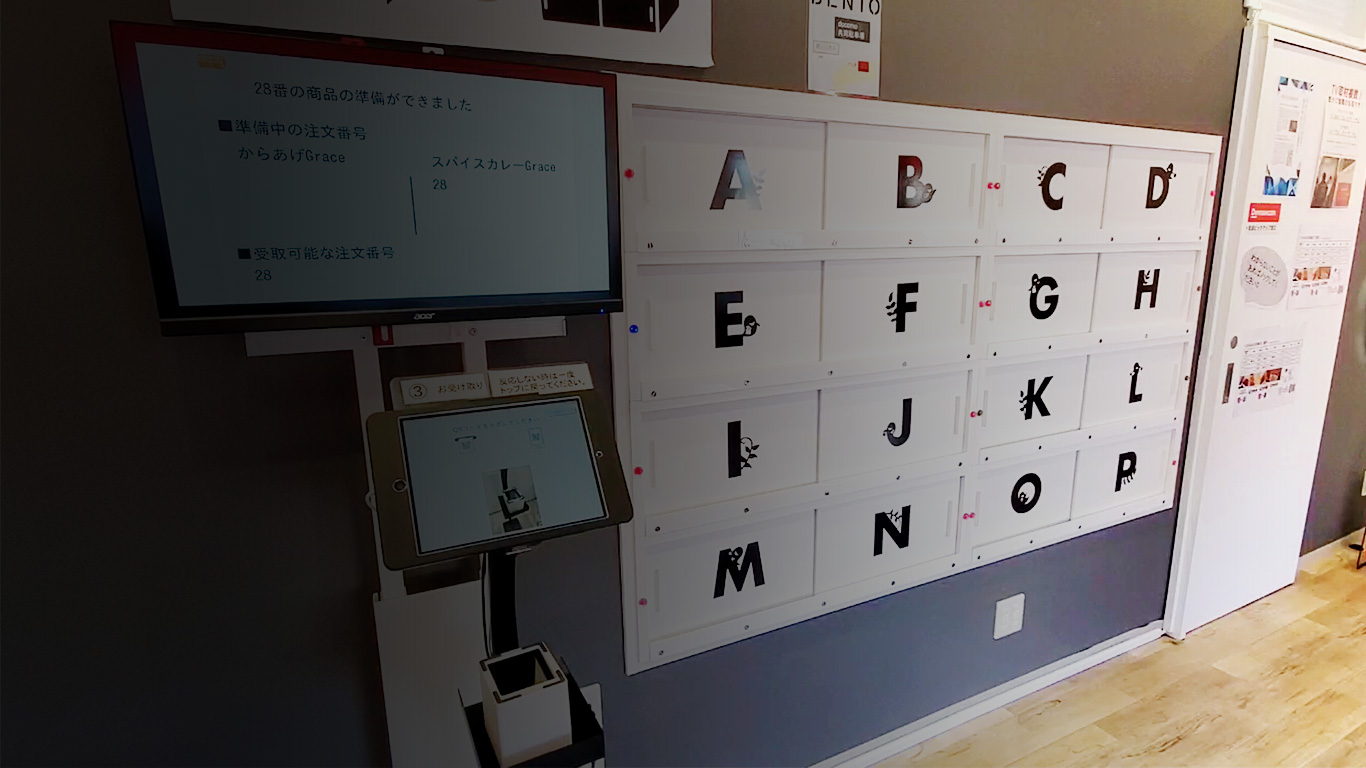 eBENTO—
a support system for
contactless management
of restaurants
The essence of the restaurant business is serving delicious food.
Our system can drastically reduce the amount of time chefs spend not cooking,
allow them to dedicate their efforts into creating amazing dishes,
and serve customers delicious meals without making them wait.
This system connects professionals and diners even in a time with COVID.
Points of Service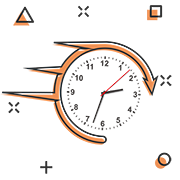 Start managing a restaurant in a flash
All of the features needed for managing a restaurant is all here! All you need to do is implement the basic system!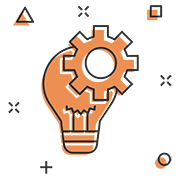 Becoming an even easier system to use
Customization according to customer needs is possible since most of the systems are developed in-house!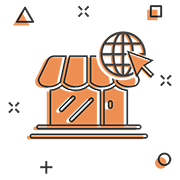 Making gastronomy more convenient with IT
In cooperation with gig workers which include non-Japanese engineers, responding to a wide range of technical domains is possible!
System Structure
This system supervised by a food and drink consultant not only covers features such as taking orders from customers and transactions, but also managing inventory in the kitchen. Since all aspects of managing a restaurant is included in this package, it is possible to run a restaurant with just this system.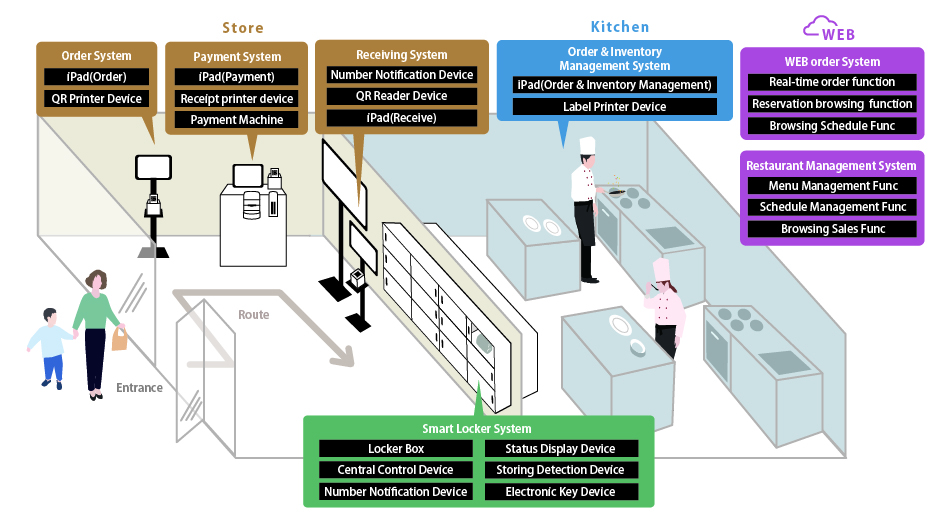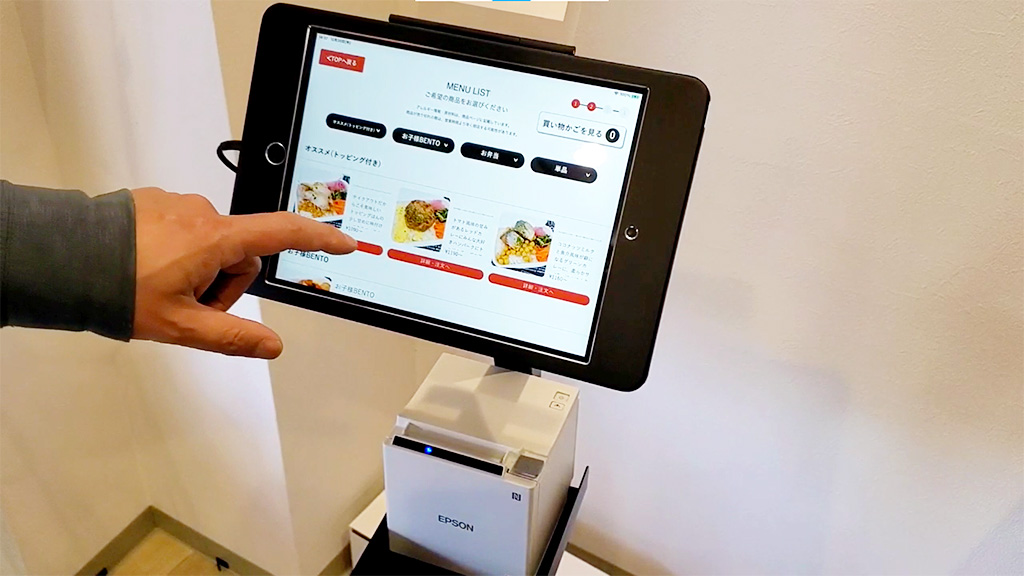 In-store Ordering System
An ordering system using a proprietary iPad application. It is linked to the inventory and kitchen management system and allows total control.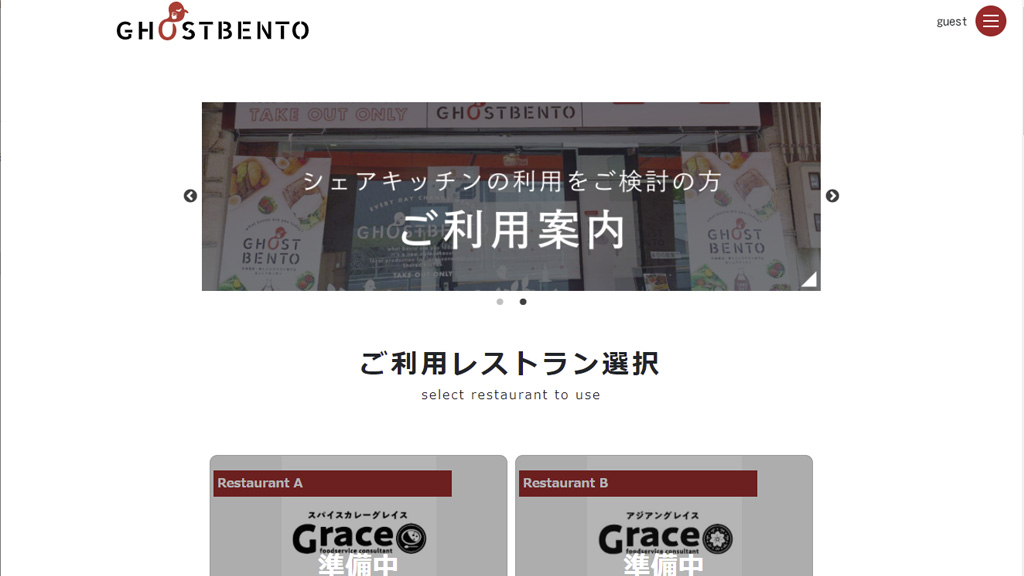 Web Ordering System
A similar system to that of the in-store ordering system. As it is a web application, anyone can access it casually.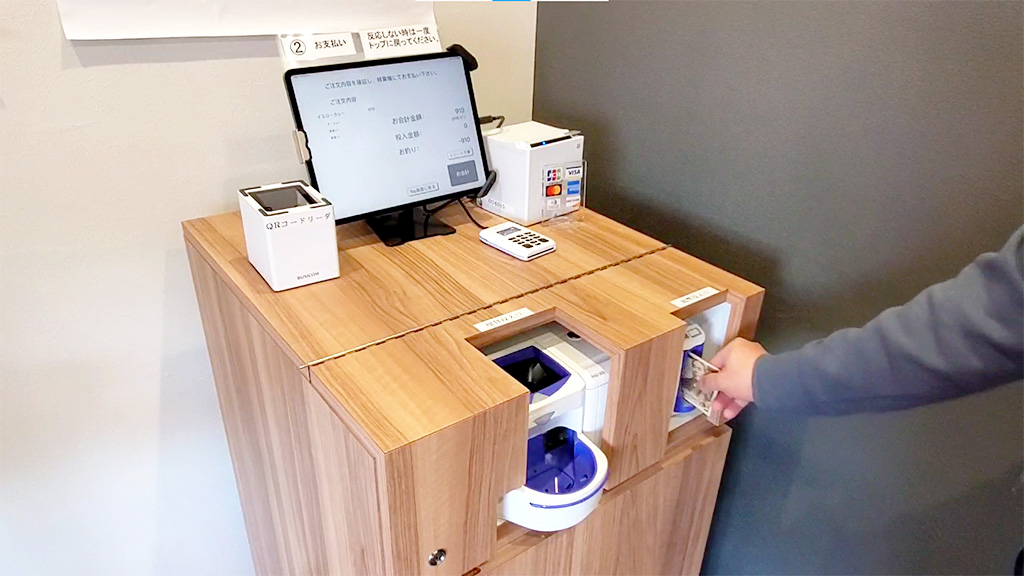 Payment System
This automatic payment-processing system which also allows for payments in cash requires no cashier and combines the iPad with a self-checkout system.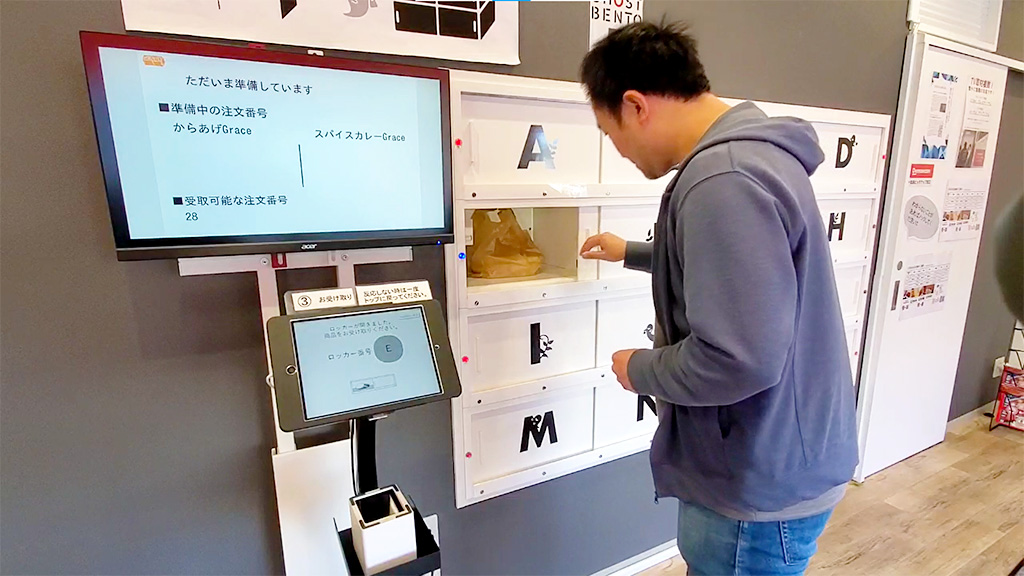 Smart Locker System
The kitchen and store front are connected by a locker in the wall. This allows for goods to be passed between them.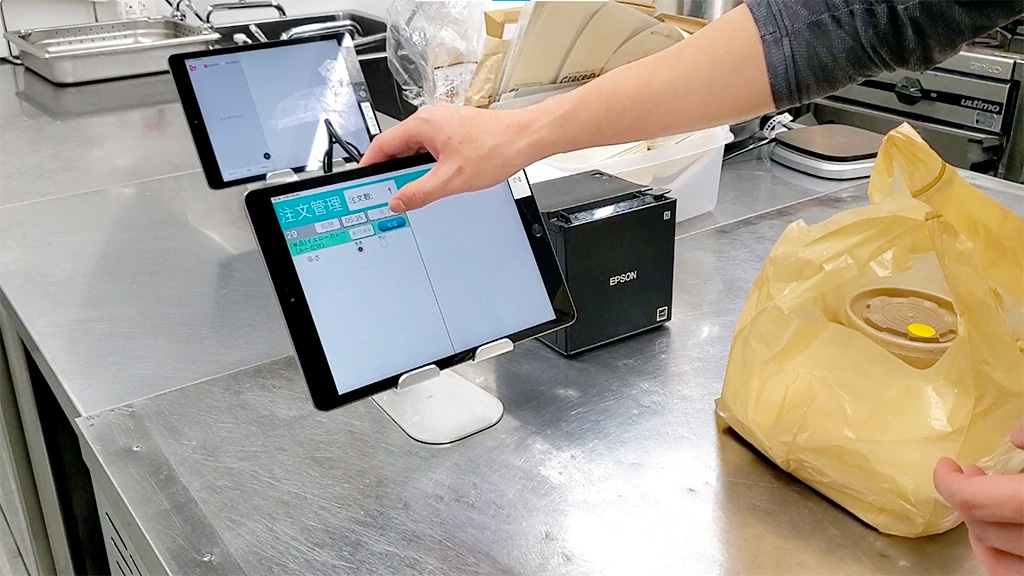 Inventory & Kitchen Management System
The amount of inventory used according to each order can be set by inputting the number of orders and inventory used for each item.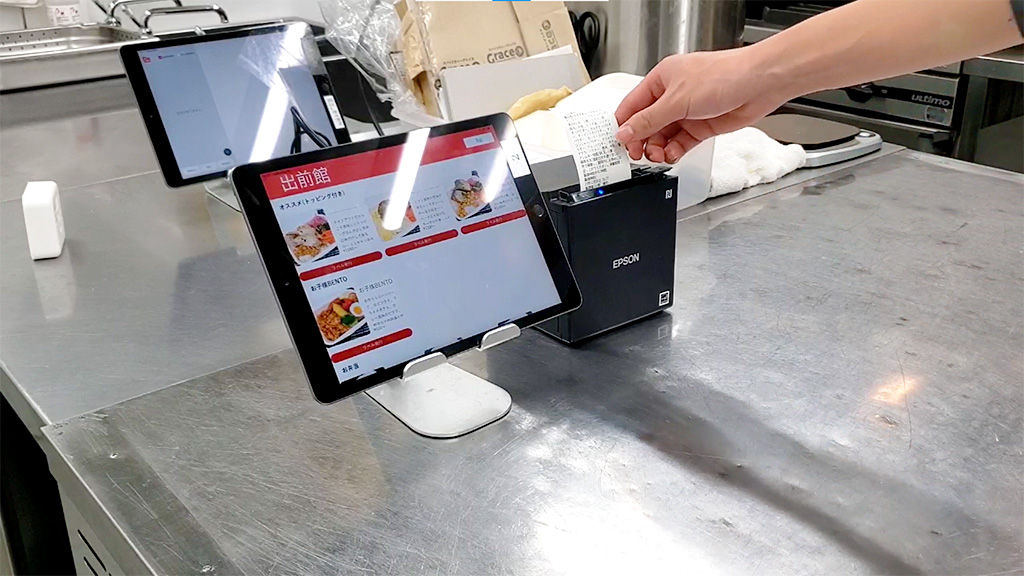 Food Labelling Print System
Easily print out food labelling, which is necessary for any take-out food and drink business.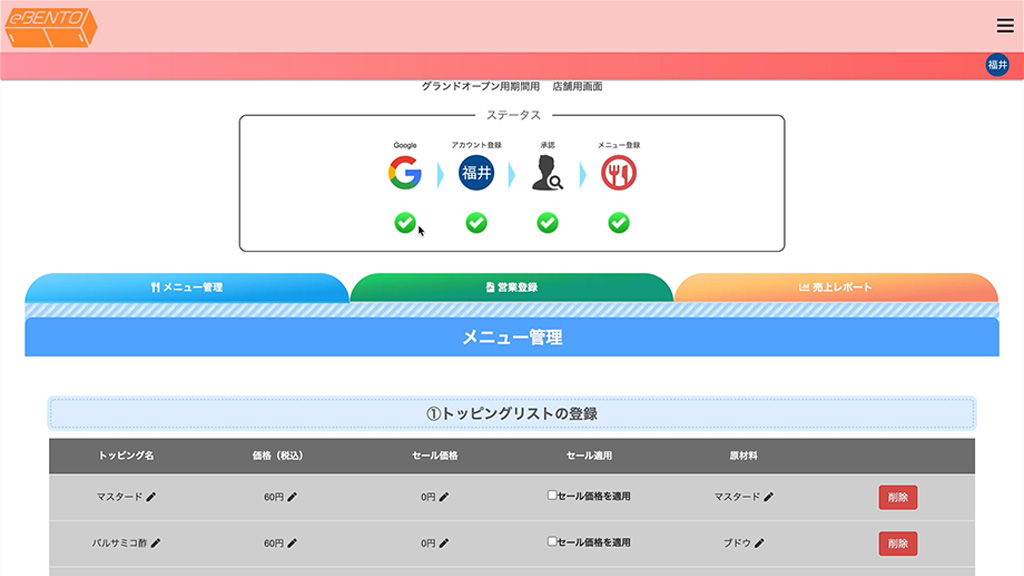 Store Management System
Responding to orders made to two separate businesses is possible. Viewing the menus, schedules, and the profits made are also possible.
Package Plan
Basic system/Open price
In-store Ordering System
Inventory & Kitchen Management System
Remote storage period (Including the period, contracts can be made in accordance to customer needs)
Web Ordering System
Store Management System
Payment System
Food Labelling Print System
Accessories
1 iPad for orders made to stores (Application already installed)
1 iPad for the kitchen (Application already installed)
QR CODE reader
1 iPad for receiving items (Application already installed)
1 iPad for the payment system (Application already installed)
A QR CODE printer
Self-checkout terminal (Already linked to transaction-processing system)
Options
Systems best for your business are suggested after consultation
Contactless hand-off of goods can be done with the Smart Locker System
Number of lockers and specifics are suggested according to the needs of each business
Replay of menus and promotional video are programmed. Optimal systems are suggested according to the implemented location
Credit Card Settlement Function
Credit card payment service using paypal is attached to the payment system
Images taken by the camera are examined by an AI processing device. Customer information is visualized and analyzed
Shared Kitchen Management System
Comprehensive management of the shared kitchen from reservations and making changes to operational stores' ordering system can be done.
Information on a physical store
We manage a physical store, GHOST BENTO, where you can try the eBENTO system.
A take-out business is conducted while experimenting with implementing various systems and evaluating them.

Location
Shikayama Green Heights H, Shikayama 3-1, Nagoya Midori-ku, Aichi
458-0045 Japan
TEL
090-7838-8683 (Only during open hours)
Holidays
Every Tuesday
Operating Hours
[Lunch Time] 11:00-14:00
[Dinner Time] 16:30-21:00 (Last order: 20:45)
*Sundays and Mondays are Lunch Time only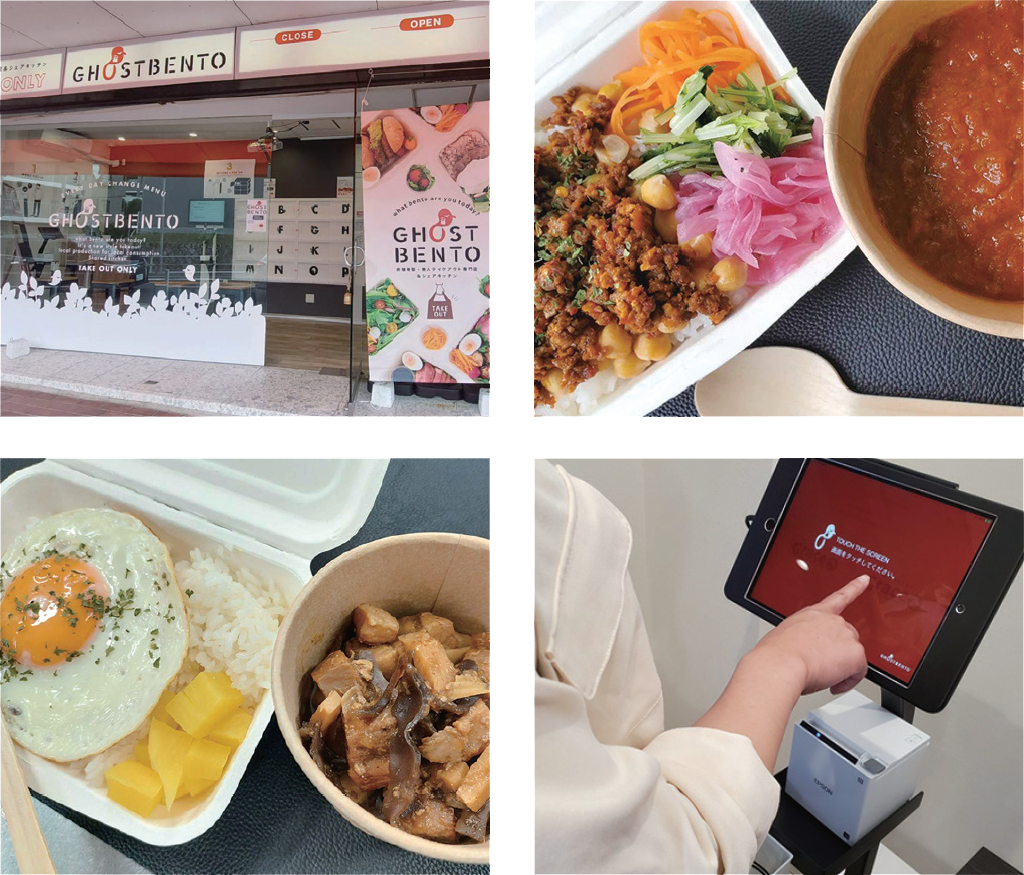 Corporate Information
Your (or another's) dream comes true, step-by-step 
Gadandan Co., Ltd.
As "Let's take the first step for living our lives" as the slogan, this start-up cooperates with gig workers in and out of Japan to develop new systems. The core consists of members who work as engineers in major domestic corporations, and active freelancers. They continue developing services while adopting new technologies.
[Company Name]
Gadandan Co., Ltd.
[Representative]
Fukui Yoshiaki
[Location]
Toride 19, Narumicho, Nagoya Midori-ku, Aichi
458-0801 Japan